How We're Different
The Free Bid Day Myth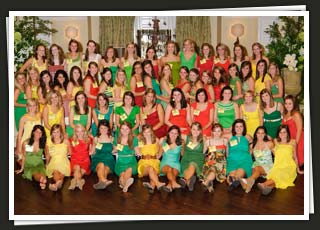 Most of our competition advertises a "Free Bid Day Photographer". This sounds great on paper except for one critical point: ALL bid day photographers offer free bid day photography. This would be the equivalent of a grocery store advertising "Free Grocery Cashier Service".
As a matter of fact, in almost forty years of providing these services, we are not aware of a single case where a sorority had been required to pay a fee for a bid day photographer. If you are aware of this occurring, please let us know!
The point of all this is that no one in the Greek Photo Network has ever or will ever charge a fee for a bid day photographer to be provided. To our knowledge, none of our competitors charge a fee for a bid day photographer, either.
However, there are some charges and practices implemented into contracts by our competition that, in our consideration, are not only unacceptable but appalling. All national companies that we know of use rollover contracts with no end date. They tend to have a cancellation point that occurs at officer transition during Winter Break. In some cases, the cancellation date occurs before the prints are delivered to the organization, hindering your organization's ability to evaluate the quality of their service. If a group wishes to cancel their contract after the rollover date, there is a penalty fee levied on the organization that can range anywhere from $600 to $2500. Suddenly, that "Free Bid Day Photographer" doesn't sound so enticing…
Greek Photo Network does not believe in rollover contracts. As an elected officer, your organization has trusted you with the responsibility of choosing the best company for your Bid Day, and we believe this contractual structure inhibits you from performing this duty. Members of the Greek Photo Network stand behind our work and believe that you reserve the right to choose your bid day photographer, not be bound by the choices of the officers who preceded you. We do not use auto-renewing contracts; our bid day only contracts run for the duration of one year without rollover. No cancellation fees, no penalties. Our "Free Bid Day Photographer" is truly free – no strings attached, no fine print, no penalties!
So how do you benefit from choosing a member of the Greek Photo Network? Truly Free. Higher Standards. Greater Quality. Better Service.
The Bid Day Coordinator Myth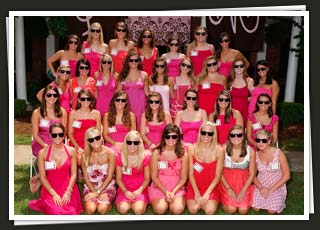 Another thing we hear some of our competition advertise is a "Free Bid Day Coordinator". Although this may sound beneficial on the surface, in truth, the only beneficiary of this coordinator is the photography company themselves.
These businesses have a business plan of trying to use as few photographers at Bid Day as possible, allowing the company to save money (on photographer costs) and reduce the risk of error. Most national companies allow organizations to choose a thirty minute block, but do not guarantee that allotted time so that they can fit as many groups to as few photographers as possible.
Anyone who has ever witnessed a bid day knows that the excitement of Bid Day reaches its precipice when the organization receives its new members. The chapter photograph is traditionally the first activity the members participate in with their new organization.
With this fact in mind, the Greek Photo Network has a completely different business plan from that of our competitors. Simply stated, we do everything in our power to take your photograph as quickly as possible after you have received your new members without impeding on your bid day festivities to ensure the maximum excitement shows in your chapter photograph. You should never have to wait for your photographer; that, in our philosophy, is unacceptable.
Therefore, member companies of the Greek Photo Network typically assign one photographer for each organization. The only time we divert from this strategy is when there are University constraints that force locations to be shared, or the organization requests that the agenda be altered, whether that be to have snacks , mingle, or whatever the case may be. If we do not take your photographs immediately after you receive your new members, it will be by your choice, not the photographer's.
Additionally, we do not pigeon-hole you into an exact time. Let's face it: bid days are unpredictable. No one knows the exact time the new members will arrive. Too often we have heard that a national company sets a time in a 30 minute block only to have the new members arrive one hour later than anticipated. The subcontractor must then decide whether to wait for the new members to arrive or move on to his second appointment, ultimately inconveniencing one of the organizations and potentially ruining their photographs or agenda. The business plan of the Greek Photo Network does not take this risk. It's your bid day. You deserve your own photographer, not a photographer shared between several organizations for the company's convenience.
Don't let your photographer be your Bid Day Coordinator!
So how do you benefit from choosing a member of the Greek Photo Network? At Your Convenience, Not Ours. Higher Standards. Greater Quality. Better Service.
Our Pledge to you on Bid Day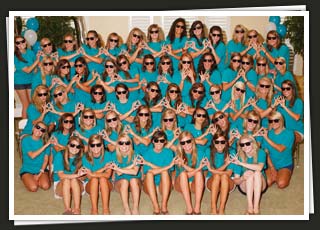 There never has been a shooting fee to use Greek Photo Network at Bid Day. In addition, no payment from individuals is accepted at Bid Day. We take orders using cards that are quickly collected between pledge class groups and bill the group within 5 days.

Unlike other companies, our Bid Day only contracts run just one year. Many of our competitors use tricky rollover contracts that literally go on to no end. Termination from these contracts is made very difficult.

Our Bid Day Group photographers are trained and hired out of our local office and are employees not sub-contractors. Many of our competitors hire out of a national office and use Craig's List to find local photographers with good experience, but no knowledge whatsoever of what a Bid Day is.

Continuing on this theme we pledge at least one group photographer on-site with at least 5 years experience to cover your Bid Day.

We will not under staff your Bid Day. Many companies promise a "Bid Day Coordinator." Don't be fooled. That person is not provided for your purpose… they are provided so they can have their single photographer go to as many houses as they can manage. We at Greek Photo Network know that the excitement of Bid Day happens right as the new girls arrive. Don't be stuck in a situation of waiting on your photographer while they are shooting several other houses.

Pricing of Group Photos are among the lowest in the country. (Please contact us for more details.)

Once you pay our simple to read itemized bill, your group photos arrive within 10 days. They will be individually packaged by name for distribution.

We are not trying to replace your photographer that covers your events with a locally trained staff. We are a great option for Sororities that are on campuses without a local option that are lacking a Photographer that specializes in Group Photos at Bid Day.
More Information
If you need information about any of our services, please feel free to use our contact form, send us an e-mail to joel@photospecialties.com, or give us a call at 800-722-7033.